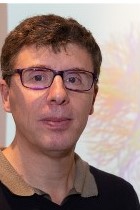 Research Interests
I'm a CNRS director of research (PhD, HDR) and work in the CerCo in the DYNAMO team. I study declarative memory in the human using neuropsychological, neuroimaging and electrophysiological approaches. Lately I got interested in various aspects of epilepsy. Some key words that could define my work are: semantic and episodic memory; recognition memory; the visual ventral stream; hippocampus; perirhinal cortex; medial temporal lobes; Alzheimer's disease; Epilepsy; intracerebral recordings; single-unit recording; tetrodes; high frequency oscillations, etc.  I co-head a Master's program in Neuropsychology and Clinical Neuroscience (website here).
.
Recent publications
Joubert S, Gardy L, Didic M, Rouleau I, Barbeau EJ. A meta-analysis of semantic memory in Mild Cognitive Impairment. Neuropsychology review, in press.
Curot J, Roux FE, Sol JC, Valton L, Pariente P, Barbeau EJ. (2020). Awake craniotomy and memory induction through electrical stimulation: Why are Penfield's findings not replicated in the modern era? Neurosurgery, in press. DOI: 10.1093/neuros/nyz553
Despouy E, Curot J, Reddy L, Nowak LG, Deudon M, Sol JC, Lotterie JA, Denuelle M, Mazizh A, Bergaud C, Thorpe SJ, Valton L, Barbeau EJ. (2020). Recording local field potential and neuronal activity with tetrodes in epileptic patients. Journal of Neuroscience Methods, 341:108759. DOI: doi: 10.1016/j.jneumeth.2020.108759
Despouy E, Curot J, DeudonM, GardyL, Denuelle M, SolJC, LotterieJA, ValtonL, Barbeau EJ. (2020). A fast visual recognition memory system in humans identified using intracerebral ERP. Cerebral Cortex, 30(5):2961-2971. DOI: 10.1093/cercor/bhz287
Rémy F, Vayssière N, Saint-Aubert L, Bacon-Macé N, Pariente J, Barbeau E, Fabre-Thorpe M. (2020). Age effects on the neural processing of briefly flashed incongruent natural scenes. Neuropsychologia, 136, 107264. DOI: 10.1016/j.neuropsychologia.2019.107264
Curot J, Barbeau EJ. (2020). Improving the Integrative Memory Model by integrating the temporal dynamics of memory. Behavioral and Brain Science, 42, e286. Invited commentary. DOI: 10.1017/S0140525X19001973
(complete publications list here)
For the DMS48, a visual recognition memory test I've designed for the assessment of early Alzheimer's disease, please see this link.